Where do I take my compost?
Thank you for finding us at Free Range Brewing!
We are lucky to partner with one of the businesses that composts their food waste with us to host a free pilot 2 select neighborhoods to access composting services for a limited time! Please take the time to thank them by purchasing a beverage while you stop by!
If you haven't gotten a bucket yet, stop inside Free Range and tell the bartender you are here to buy a Crown Town Compost bucket! This is a one-time refundable deposit for the bucket (refunded by us or Free Range, wherever it's easier for you to return the bucket).
Now that you are ready to use our service…
Walk down the driveway along the left side of Free Range's building.
All of the waste containers will be lined up along the side of the railings
Your bin is at the end of the trash can line, with "FOOD WASTE ONLY" stamped on top
Simply empty the contents of your bucket into this bin and come back whenever needed! We recommend making it a weekly habit, so be sure you are receiving our text message reminders!
What can you compost with us?
• Eggshells
• Coffee grounds
• Veggie / fruit scraps
• Flowers and dead plants
• Paper towels / napkins / dryer sheets
• Shredded paper (which is non-recyclable)
• BPI Certified and/or ATSM D6400 Compostable Plastics
What shouldn't you compost with us?
• Aluminum, Glass, Styrofoam or Plastic
• Latex, Foil, or Saran Wrap
• Excess liquids
• Animal waste
• Fluid Dairy
• Raw Meat
• Grease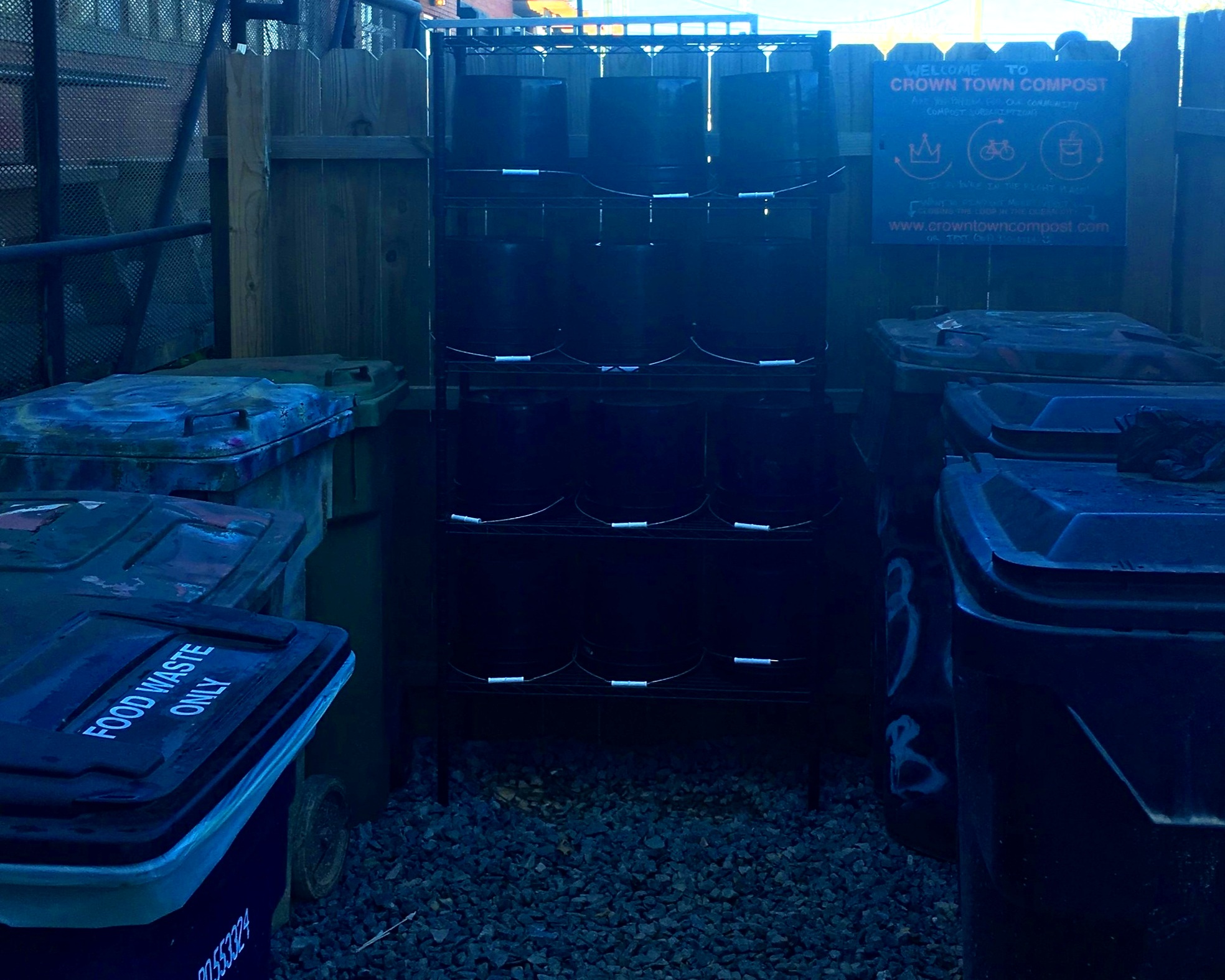 What's the deal with the rack of buckets back there?
This is an extra white glove service for our paying community compost customers.
Free Range Brewing is kind enough to pay the price for hauling and processing a load of food waste every other week for their immediate neighbors.
However, for our community compost customers we also clean the bucket for you at every exchange, leaving the dirty work to us. After emptying it out for you and spraying it with environmentally safe soap we wipe it down and re-line it with a consumer recycled paper bag to contain the food waste and excess liquids.
This service is $10 monthly, at the cost of half a beer per week!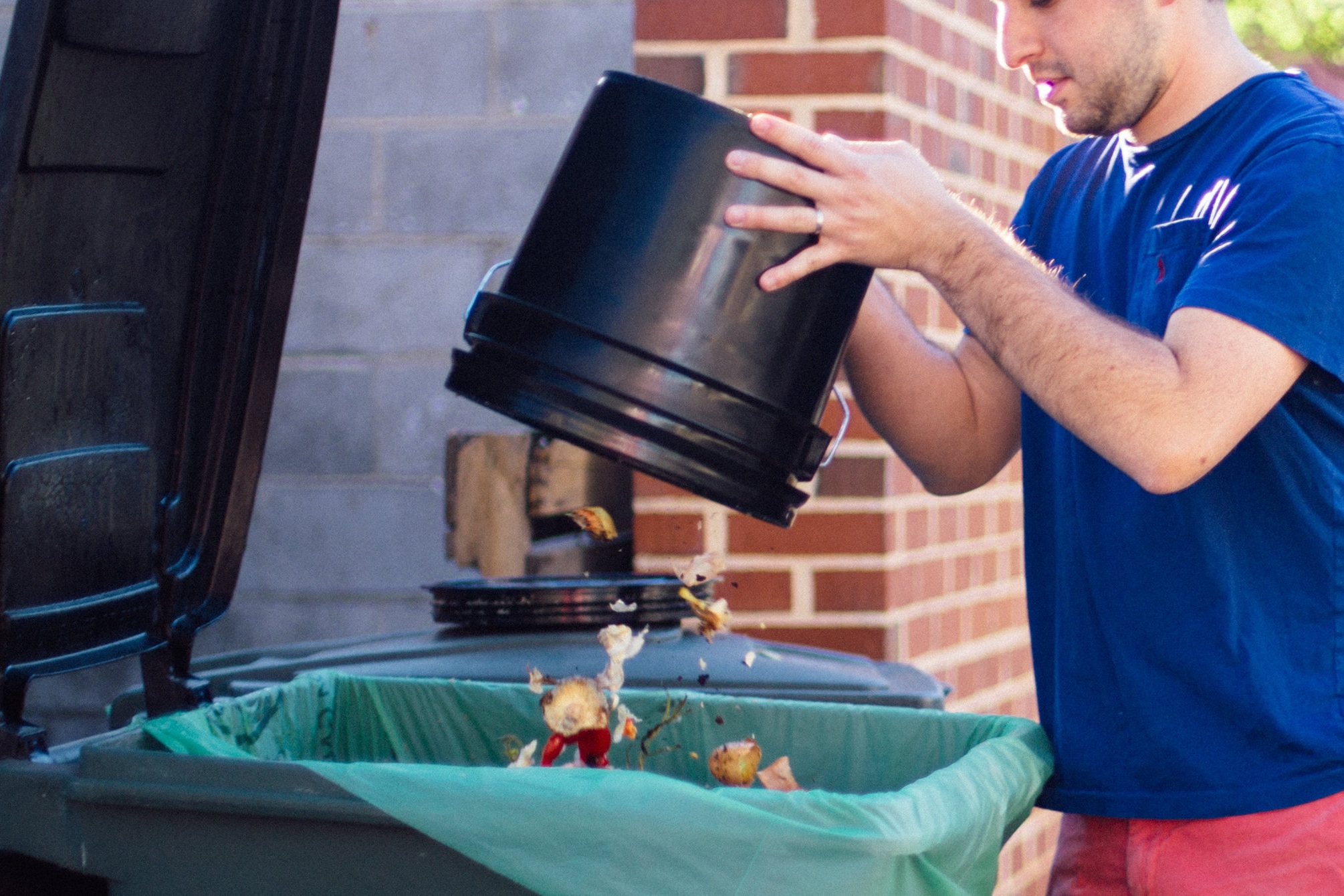 Why do you have to use our container?
After ample research we've found that our bucket is just right to keep the contents safe from animals, protected from the weather, and the odors locked inside! Plus, it's made from a highly valuable HDPE plastic which is in high-demand for recycling once it's been well used and finished.
It's easy to clean out, and it fits just under the average kitchen sink. Trust us, we've tested a lot, and you'll be happy with this one.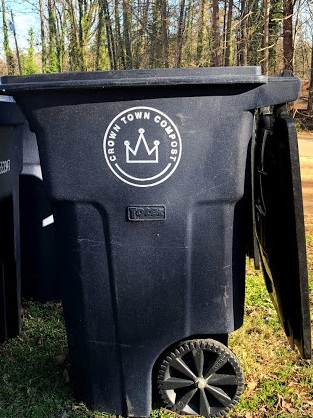 Why are there costs associated with our services?
I've heard the question, "why am I paying to give you food waste, and paying to get compost back?"
Great question, many answers.
1) Containers. From our 64 gallon containers, to our 3.5 gallon bins; there is long term maintenance associated with each item. Cleaning, replacement, etc.
2) Hauling. Besides location-to-location between our customers, we also have to get a dump truck to come out and collect approximately 7,500lbs of food waste per week, and deliver it to a farm in Dallas, NC. We are looking at shorter distance solutions to keep food waste processing more locally, but creating the infrastructure and obtaining land and permits take time.
3) Equipment. This industrial farming facility has 12'-15' high rows of food and tree waste, which means specialized equipment is necessary to turn it! Every day a new row is turned, making sure to monitor the moisture, oxygen, nitrogen, and carbon levels to just the right degree!
4) Maintenance. Due to contamination (things that shouldn't be in the compost such as glass, metal, and plastic bags) the machinery will break down and require fixing, also requiring back up equipment to keep the process running.
5) Employees. We have 3 different services (Residential pick up, residential drop off, commercial pick up) and in order to maintain consistent and reliable service for everyone we need a consistent and reliable employee. This job takes about 4-5 days of physical labor. It's just too much to ask of someone for free labor.
6) Hauling, Equipment, and Employees (again). This is specific to compost soil returns, which need sorting and bagging machines, another dump truck to deliver it back into town, and obviously workers to get it all done.
So, we hope you understand our prices reflect the needs of our industry, not a result of greed! Thank you for helping us give Charlotte cleaner air, more space, and healthier soil!
Are there any other benefits?
Other than the many benefits of keeping your food waste out of the landfill and turning it into healthy living soil, yes we treat you to discounted soil back!
We sell 40lb bags of garden ready compost soil mix at $8 per bag for our subscribed monthly members, or $12 per bag to anybody! We also sell bulk orders by the yard, email Howdy@crowntowncompost.com for a quote.
What else does Crown Town Compost do?
We provide educational activities at events! Email for schedule availability!
We partner with select CMS elementary schools for education and composting information to keep the future green and sustainable.
We have residential pick-up customers that subscribe to our bi-annual soil deliveries; sometimes they do not require soil when we are ready to deliver so they donate them instead. As of 2019 we decided to match these donations and give compost soil to 2 separate locations; community gardens, elementary schools, humanitarian projects, and other organizations we see fit! Recommend a location you think needs soil in the fall or spring, and we will review them for consideration!
SOON we are creating a phone App that can tell you where our commercial partners are located. These are businesses you should care about because they also compost their food waste with us! On our application they will showcase rewards and benefits available to our residential members to save money on their services!